London, United Kingdom, October 8th 2013. Telnames (http://www.telnames.com), a leader in self-service mobile-friendly websites for local businesses, today announces an extension to its popular service with the launch of the Telnames Partner Network, delivering automatic submission of core business listing details to participating online directories, local search engines and business listings publishers.

This new local search listings management service is being provided to all Telnames UK business customers free of charge. When businesses sign up for a Telnames .tel mobile website, Telnames will now distribute their business contact information along with their .tel site URL across a network of significant local search publisher partners including Bing, Yahoo!, BT, Scoot, 118118.com, 192.com, Local Mole and many others. Telnames captures all the relevant data from UK businesses that online directories need during the customer sign-up process, and provides this data capsule to Partner Network member directories and local search engines via an automated and regularly updated feed.

The Telnames Partner Network is constantly expanding as more and more partners come on board. Many UK businesses that sign up to Telnames are new to these directory listings or are listed but without a website URL. With the Telnames Partner Network businesses can be assured of maximising their inclusion in local search results with an easy to use single page website designed with mobile users in mind. Previously, companies have had to create their own website, make it mobile-optimised, and then submit it to the directories themselves. Many businesses have found this process time consuming and a hassle so they have not bothered with it resulting in their business not being fully listed or appearing without important website content putting them at a disadvantage in the UK local search web.

Telnames' Chief Marketing Officer Ian Bowen-Morris comments: "By coupling quick, easy and low-cost mobile-friendly website creation with local search listings management, Telnames is providing a disruptive solution that will boost online directory content and help small businesses generate sales leads." He adds: "The benefit of Telnames and its Partner Network is two-fold – giving our customers the ability to do something previously expensive and time-consuming at very low cost and very simply and, crucially, offering local directory and search publishers access to many previously unlisted businesses whilst providing a rich source of new local search information that will improve the depth and breadth of search results and content that they serve to the public searching on all devices at home or on the move. It's a win-win solution and we're looking forward to welcoming many new publisher partners on-board as we expand our network."

The Telnames Partner Network local listings service is included within a customer's annual Telnames low cost subscription. Businesses don't need to take any further action to benefit, all that is required is a .tel name that is well-populated and ready for customers to visit and make contact.

For more information about becoming a Telnames Partner Network publisher please email us at partners[at]telnames[dot]com or visit: http://www.telnames.com/telnames-partner-network/
It will be great to see the first Telnames updated at Bing, Yahoo and Co.!
Junior





Posts

: 39
Points : 1586


Reputation

: 3


Join date

: 2013-08-17
Warning level :



Any URL suggested for this local search engine please ?  Thx
Junior





Posts

: 30
Points : 1548


Reputation

: 19


Join date

: 2013-08-24
Warning level :



The picture above was published today on Telnames' blog without any reference.
I don't know if it's a real example or only an illustration.
The example appears to come from www.yell.com.
However when I search the site this is what I see:-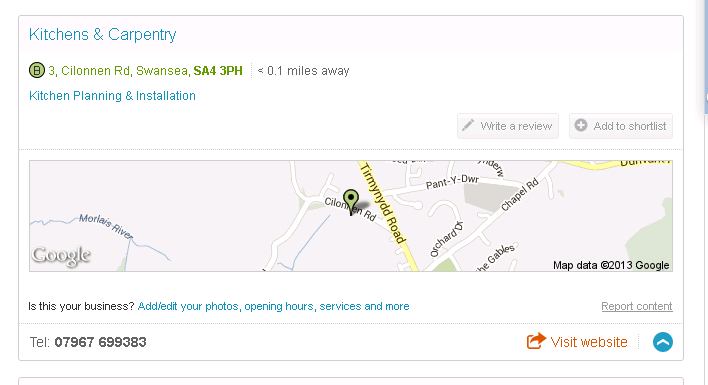 If I click on the "Visit Website" then the link takes me to http://www.gowerkitchenfitting.tel although I can't see the link displayed as shown in the example quoted by Tely.
I am not sure what is being offered by Telnames.
Under normal circumstances would I need to pay to get a listing like this example  in www.yell.com ? Is the cost of inclusion being covered by Telnames via some form of bulk submission deal?  Or is it just a free listing, which I could submit myself?
Also how many people these days bother to look for a business in "Yellow Pages" even in an online format?  Won't the vast majority of people just search google for "Kitchens Swansea" ?
Maybe somebody understands what is on offer better than I do !!  Any Suggestions ?
Regards,
Keith
Newbie





Posts

: 19
Points : 1535


Reputation

: 12


Join date

: 2013-08-19
Warning level :



You're suggesting people don't use www.yell.com.? and use Google LOL sorry but LOL yell has apps as well as paper directories and online directories as displayed above as well as millions in marketing.

The only issue is people using siri and siri clones and where that data comes from.

But people who are serious about finding the right tradesman will use a directory like yell and not Google, because you don't know what you get in Google where as yell is at least a brand name they can trust to give them business info with the hope of them not being cowboy builders (no guarantee of course but yell is a better brand than Google for local business search, where as Google is full of S*** and dead links/businesses).

How many sites do you think are in Google that have dead links? old phone numbers? and are junk? Google crawls data and it don't care to a degree if a number is outdated, sure they have business pages but theres no guarantee that the business still exists! or the number still works, though with G+ to a degree sites and businesses are checked somewhat but not enough to give confidence as Google is a crap brand.

At least with telnames/yell/directories we know and love we know someones checked and partnered with telnames tel can offer that "we checked every 6 month", not that they do yet but if they keep checking then we have a much better chance using a Yelledtel than a Google directory to find a web/work functioning tradesmen.
Newbie





Posts

: 10
Points : 1519


Reputation

: 7


Join date

: 2013-08-16


Location

: United Kingdom (GB)


Slogan

: The traverse and re-postings of a telsonians perspective.
Warning level :



Think of it this way, Google indexes not every business and not every business is indexable by Google, where as Yell gives people a choice because the data is submitted by themselves? aka submitted by the business so they get better results than with google as google is random and sites get dropped down rankings for doing nothing.
Newbie





Posts

: 10
Points : 1519


Reputation

: 7


Join date

: 2013-08-16


Location

: United Kingdom (GB)


Slogan

: The traverse and re-postings of a telsonians perspective.
Warning level :



@Lostwithiel

Thank you. I found the link where the Telnames screenshot has been made:

http://www.yell.com./biz/kitchens-and-carpentry-swansea-7217192/
---
Permissions in this forum:
You
cannot
reply to topics in this forum